Welcome to the Open Inventor Toolkit Use Case Gallery
helps application developers deliver better applications faster, by providing fast, powerful, dependable 3D graphics libraries.
In this gallery you will find commercial application examples, scientific publications, articles, papers, posters, presentations or videos that show Open Inventor Toolkit usage in Medical, Dental, Oil & Gas, and Engineering markets.
You are not an Open Inventor Toolkit community member yet?
A novel crowdsourcing platform for microelectronics counterfeit defect detection
Disguising non-authentic electronic parts as otherwise, so called as electronic counterfeiting, continues to inflict significant damages on government, industry and society. This calls for finding effective ways to identify counterfeits. The current approaches involve acquisition of 2D and 3D images of the alleged part using a spectrum of microscopy tools, followed by having them assessed by a group of subject matter experts. This approach, nevertheless, entails two important shortcomings. Fi... Read more
Bahar Ahmadi, Pouya Tavousi, Joseph Favata, Peiman Shahbeigi-Roodposhti, Rengarajan Pelapur, Sina Shahbazmohamadi

Read paper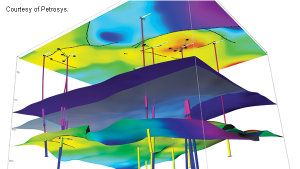 Mapping and surface modeling software
In the complicated game of petroleum exploration and production, the stakes are high, and great maps are vital to the decision-making process.
Petrosys software gives you the power to create extraordinarily precise and meaningful maps by providing a unique combination of quality output, comprehensive mapping, 3D visualization and surface modeling calculations so that you can effectively integrate data from the entire realm of seismic, well, engineering and economic systems involved in o... Read more
Petrosys

Learn more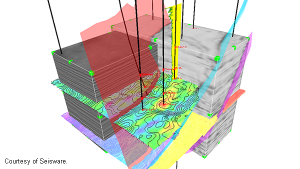 Seismic interpretation software
SeisWare International Inc. develops, markets and supports SeisWare™ software, an all-inclusive, PC-based seismic interpretation package.
Version 7.0 of SeisWare software introduced the 3D Seismic Visualizer application, powered by Open Inventor, which brings powerful 3D visualization capabilities to this innovative interpretation software.
Geoscientists use the SeisWare 3D Seismic Visualizer application to view sub-surface data in three dimensions. This demonstrates how their ... Read more
SeisWare

Learn more