Welcome to the Open Inventor Toolkit Use Case Gallery
helps application developers deliver better applications faster, by providing fast, powerful, dependable 3D graphics libraries.
In this gallery you will find commercial application examples, scientific publications, articles, papers, posters, presentations or videos that show Open Inventor Toolkit usage in Medical, Dental, Oil & Gas, and Engineering markets.
You are not an Open Inventor Toolkit community member yet?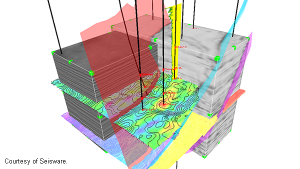 Seismic interpretation software
SeisWare International Inc. develops, markets and supports SeisWare™ software, an all-inclusive, PC-based seismic interpretation package.
Version 7.0 of SeisWare software introduced the 3D Seismic Visualizer application, powered by Open Inventor, which brings powerful 3D visualization capabilities to this innovative interpretation software.
Geoscientists use the SeisWare 3D Seismic Visualizer application to view sub-surface data in three dimensions. This demonstrates how their ... Read more
SeisWare

Learn more