Virtual setup in orthodontics: planning and evaluation
F. Baan, Radboudumc 3D Lab, Radboud University Medical Center - O. de Waard, Department of Dentistry, Section of Orthodontics and Craniofacial Biology, Radboud University Medical Center - R. Bruggink, Radboudumc 3D Lab, Radboud University Medical Center - T. Xi, Department of Oral and Maxillofacial Surgery, Radboud University Medical Center - E. M. Ongkosuwito, Radboudumc 3D Lab, Radboud University Medical Center - T. J. J. Maal, Radboudumc 3D Lab, Radboud University Medical Center
Researchers at Radboud University Medical Center recently published a new paper entitled "Virtual setup in orthodontics: planning and evaluation".
The purpose of this study was to evaluate the clinical accuracy of virtual orthodontic setups using a new CBCT-based approach.  The data of this study can be used to obtain more insight in the accuracy and achievability of orthodontic virtual setup. Tooth movement can now be studied in more detail which can lead to new insights.
As a result of the fast advancements in digital dentistry, three-dimensional (3D) virtual setup in orthodontics is an emerging technology. 3D virtual setup is able to simulate the orthodontic treatment by segmenting individual teeth and moving each individual tooth to its desired position.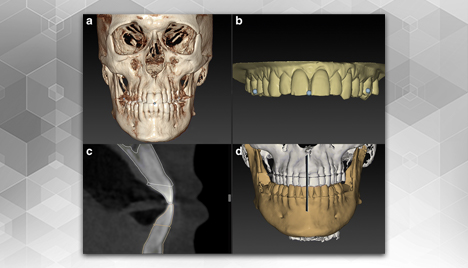 Patients presenting with severe malocclusion and dentofacial deformities are commonly subjected to combined orthodontic treatment and orthognathic surgery. Virtual surgical planning is a frequently used tool in orthognathic surgery. In this virtual environment, the surgeon can perform osteotomies, simulate different treatment strategies, and predict the facial profile after surgery. Based on this virtual planning, surgical splints can be fabricated and used to position the jaws in the planned positions during surgery. Predictable post-operative outcome can be obtained in this way . While orthognathic surgery is virtually planned, taking the smallest details into account, this is rarely the case for the pre-surgical orthodontic treatment. An optimal pre-surgical orthodontic treatment is essential to decompensate the dental arches, as dental misalignment can mask the underlying skeletal discrepancies and hinder the required surgical jaw movements. Properly performed orthodontic decompensation facilitates the surgeon in obtaining a stable post-operative occlusion and optimal post-operative result