Vertaplan planning software for spine treatment
spontech spine GmbH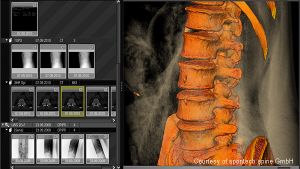 The human spine has very specific requirements regarding therapy and surgery.  spontech's proprietary vertaplan software is an integral part of comprehensive planning for spine treatment. vertaplan provides tools for preoperative planning and intraoperative assistance, ensuring the optimal position of the spine geometry.
spontech is now developing a new version of vertaplan based on the Open Inventor 3D SDK, with the objective to bring even more detailed representation of the spine for improved visualization and understanding.
The spine as a basis for high quality of life
Each person has their own personal movement profile and their own individual coordination between head, shoulders and pelvic girdle. The spine of each individual person is shaped by this unique movement pattern, making it a multifunctional and very complex natural wonder.
Intervertebral discs act as shock absorbers between the vertebrae
Everyday strains/forces lead to degeneration of the discs
Surgery may be indicated
As a result of demographic developments, it is expected that the occurrence of degenerative spine disorders will noticeably and steadily increase. At the same time, patients' expectations regarding the quality of the surgical performance will grow.